Protection of minors – age rating
The age rating sign is not for decorating the screen
As parents, grandparents or even as adults caring for the neighbour's children, we should know what is on TV when the children are sitting in front of it. In the corner of the screen as well as in the cinema programmes, coloured circles help us all in that regard (and there is always an official announcement before any radio programme with content harmful to minors).
Age ratings help us determine the primary target group of the specific broadcast programme. Programmes with higher age ratings may only be broadcast during the night when minors cannot see them. In contrast, when you see the number 6 in the circle, feel free to grab a sandwich from the kitchen, as you can be certain that your lower-school or kindergarten-age child will not encounter any harmful content.
Beyond free access to media content, the remote control is within reach of TV audiences, that is, they have the right to make decisions and freely choose programs and also to avoid harmful content. The age-limit circle therefore, is not for decorating the screen but is important information.
Adults are supported in their responsibility of program selection by the age-limit circles that appear on the screen with all television programs, cinema films, as well as computer or online games or packaging informing them of the age group that any given media content is suitable for.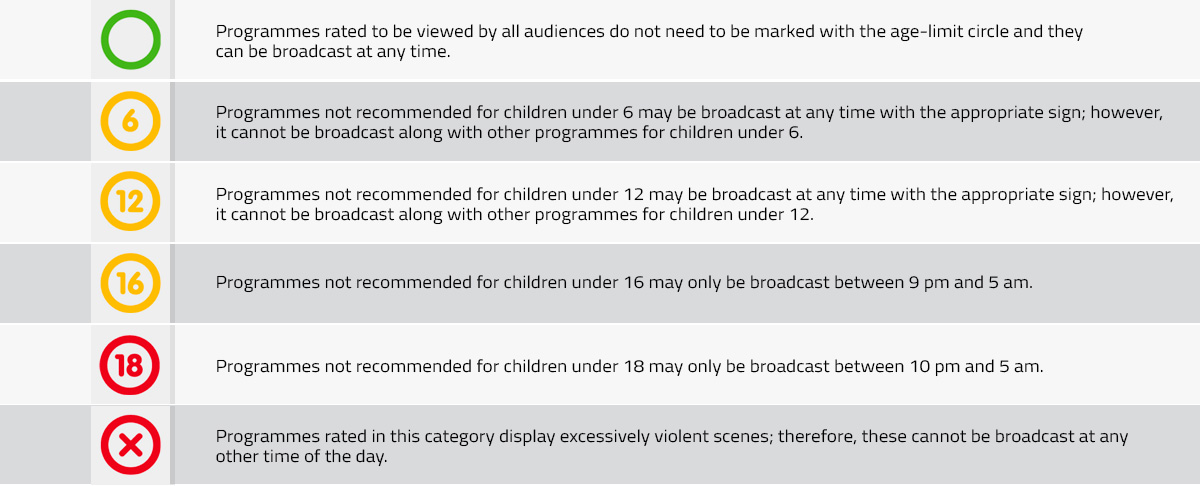 Age rating of television programmes is done by the media service providers themselves. NMHH facilitates the process with a classification recommendation, and, if requested by the service providers, provides an advance rating of a given programme into whatever category is deemed appropriate.
The films shown in the cinemas are rated differently: the appropriate age-limits are determined in a regulatory proceeding by the NMHH's National Film Office based on the recommendation of the Age Rating Committee. For more information, visit our Movie subsite.