NMHH's Institute for Media Studies recognises up-and-coming professionals for the fourth time
The Institute for Media Studies (MTMI) of the National Media and Infocommunications Authority (NMHH) bestowed awards upon talented students doing research on current issues of media and communications law along with their supervisors in the call for papers within the framework of the National Scientific Students' Associations Conference. Awards were presented on March 21st by the President of the NMHH, Monika Karas, at NMHH's head office in Ostrom utca. The most popular topics dealt with in the submitted papers were increasingly related to the internet.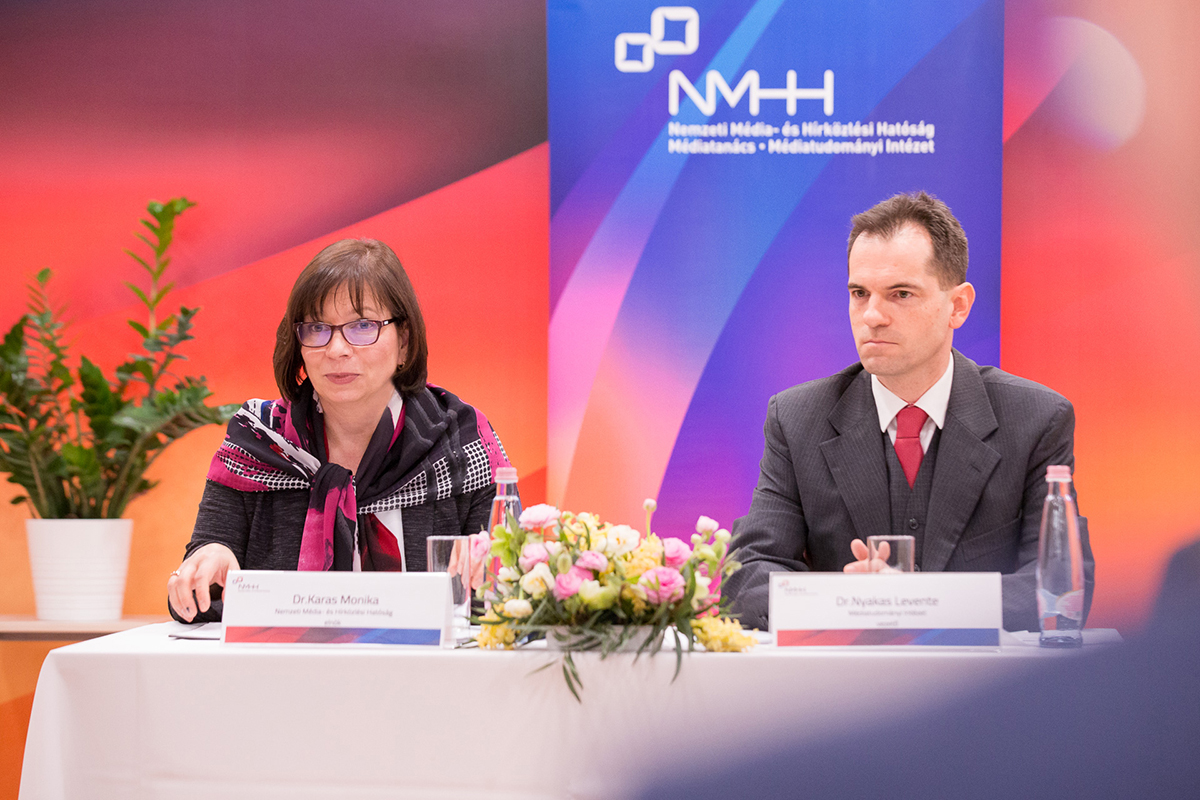 As part of the recognition, ten students received an award certificate and a monetary prize of HUF 100,000 each, while the authority distributed HUF 500,000 among their supervisors. Another four special award winners received book prizes. This was the fourth time that the MTMI issued a call for scholarly papers dealing with media and communications issues in the context of the law studies section of the National Scientific Students' Associations Conference held in every two years. Awarded students submitted their papers from seven universities.
At the awards ceremony, Monika Karas, President of NMHH, highlighted that the award-winning papers show awareness and mindfulness towards problems. "Papers take a professional view to examine some highly topical issues such as ownership of personal data, online hate speech, the responsibility of hosting providers or the relationship between Big Data and democracy", said the head of the authority. She added that the authority considers it an important responsibility to find and motivate the next talented generation as they will develop into the professionals of the future.
"Feedback is highly important in research as it is fundamentally a solitary activity. The Institute seeks to encourage and recognise achievements with the awards it offers", said Levente Nyakas, Head of the NMHH's Institute for Media Studies, in his welcome speech, highlighting that in the last eight years more and more papers dealt with topics related to the internet and this trend continued this time as well.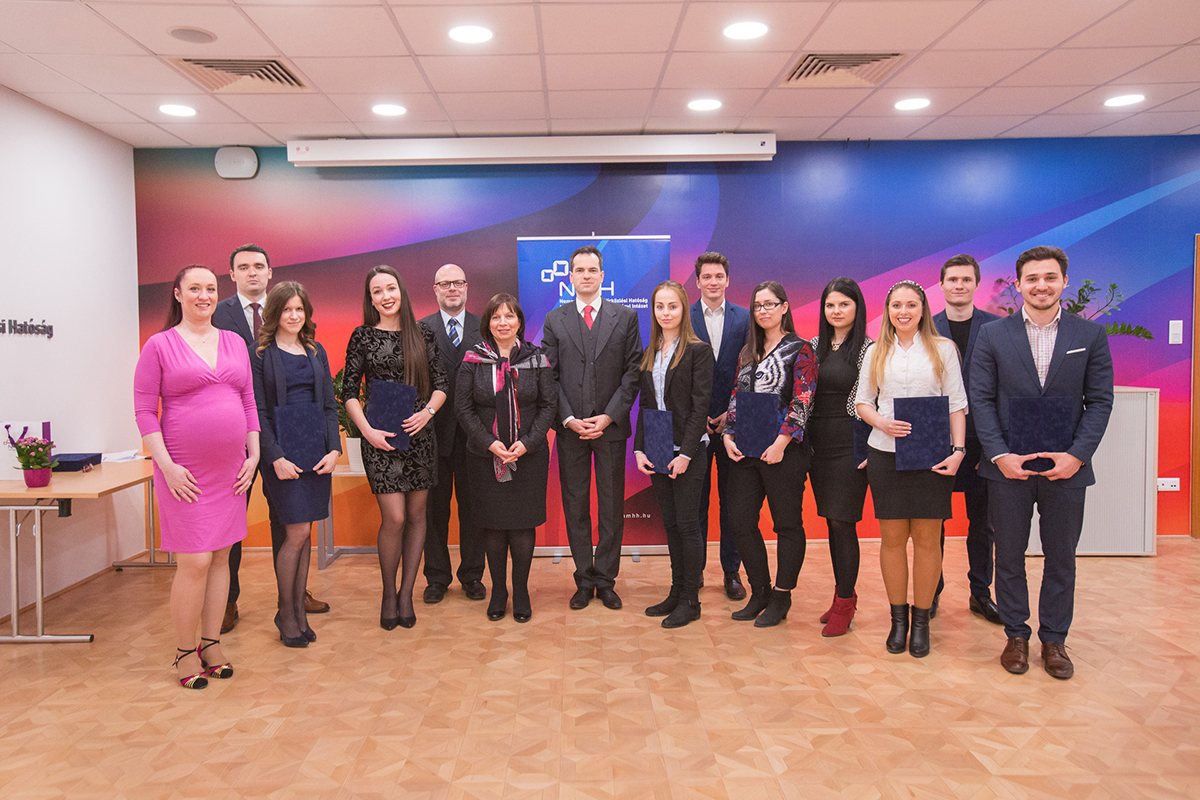 The Institute aims not only to motivate, but also to disseminate the research findings of award-winning students to a broader audience, and therefore, it offers to publish award-winning papers on the MTMI's website after the competition; these will be available within a couple of days at http://nmhh.hu/mtmi/kiadvany-tanulmany .
Award-winning papers:
| | | | | |
| --- | --- | --- | --- | --- |
| # | Author | Title | Institution | Supervisor |
| 1. | Dániel Almási | You are the product – who owns the personal data? | PPKE JÁK | Dr. Attila Péterfalvi |
| 2. | Liza Bukor | Online hate speech in the world of social media | ELTE ÁJK | Dr. Zoltán Pozsár-Szentmiklósy |
| 3. | Melitta Lévay | Connections between competition law and electronic communications law, with particular regard to cases of margin squeeze | ELTE ÁJK | Dr. Virág Balogh, Dr. János Fazekas |
| 4. | Lívia Szabó | Comparative legal analysis of software protection in Hungary and the United States of America | SZIE ÁJK | Dr. Attila Barna, Dr. Barna Arnold Keserű |
| 5. | Marcell Szikszai | Internet is the message | ME ÁJK | Dr. László Majtényi |
| 6. | Attila Tatár | Issues of responsibility among hosting providers | ELTE ÁJK | Dr. Gergely Gosztonyi |
| 7. | Álmos Ungvári | Direct film funding in Hungary | PPKE JÁK | Dr. Sándor Takó, Dr. Ádám Varga |
| 8. | Zsanett Váradi | Democracy 2.0? Challenges of Big Data-based data processing affecting the democratic exercise of power | ELTE ÁJK | Dr. Bernadette Somody, Dr. Iván Székely |
| 9. | Zita Varga | Dynamic technology trends vs. spiraling? – Recurring issues concerning the scope of media law | SZTE ÁJTK | Dr. Klára Gellén |
| 10. | Viktória Verebélyi | Advertising ban on tobacco products, with particular regard to the requirement of uniform packaging | SZIE ÁJK | Dr. Béla Csitei, Dr. Ákos Kőhidi |
Special awards:
| | | | | |
| --- | --- | --- | --- | --- |
| # | Szerző | Cím | Intézmény | Konzulens |
| 1. | Csaba Gaszt | Regulatory issues of artificial intelligence, with particular regard to robotics | KRE ÁJK | Dr. habil. Ádám Boóc, Dr. Tamás Klein |
| 2. | Pál Laska | How is the theme of cybersecurity represented in film? | NKE ÁKK | Péter Bányász |
| 3. | Zsófia Szűcs | Passing-off | KRE ÁJK | Dr. Tamás Klein |
| 4. | Eszter Zöldi | A review of advertisements for alcohol and tobacco products in Hungary, the European Union and the United States of America | PPKE JÁK | Dr. András Koltay |
Abbreviations:
ELTE ÁJK: Eötvös Loránd University, Faculty of Law
KRE ÁJK: Károli Gáspár University of the Reformed Church in Hungary, Faculty of Law
ME ÁJK: University of Miskolc, Faculty of Law
NKE ÁKK: National University of Public Service, Faculty of Science of Public Governance and Administration
PPKE JÁK: Pázmány Péter Catholic University, Faculty of Law and Political Sciences
SZE ÁJK: Széchenyi István University, Deák Ferenc Faculty of Law and Political Sciences
SZTE ÁJTK: University of Szeged, Faculty of Law and Political Sciences