A delegation from the European Parliament's Committee on Culture and Education was received by the President of the NMHH
A delegation from the European Parliament's Committee on Culture and Education has visited Hungary. The delegation, led by committee chair Sabine Verheyen, was received by Dr. András Koltay, President of the National Media and Infocommunications Authority (NMHH). The MEPs were informed about the situation of the Hungarian media market, the implementation of media pluralism and the application of EU legislation in Hungary.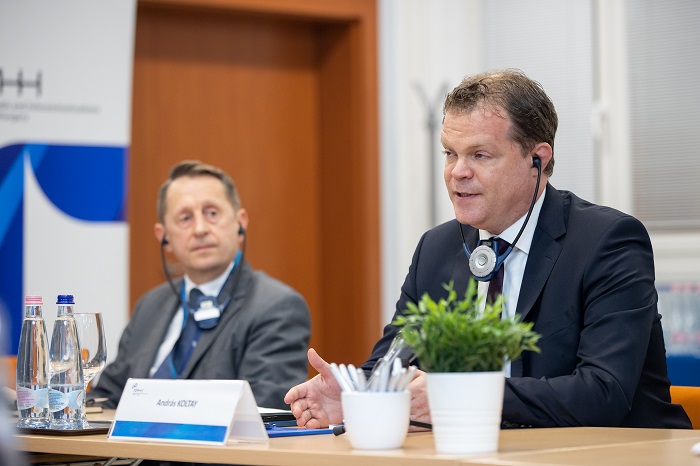 Andras Koltay President of the NMHH (r) and Ervin Kajzinger the head of NMHH's Directorate of International Affairs
At the meeting, Dr. András Koltay gave the delegation an outline of the tasks of the NMHH, and the Authority's operation related to electronic communications, frequency management and supervision of postal services. The NMHH President told the delegation that the Authority carries out its supervisory and regulatory actions as an independent body in accordance with EU legislation. The NMHH President highlighted that the independence of the media authorities of the Member States became an EU requirement following the 2018 amendment of the Audiovisual Media Services Directive (AVMSD), but in Hungary the independence of the Authority has been ensured by law since 2010.
Asked about the situation of the Hungarian media market and news consumption habits, Dr. András Koltay said that the Hungarian media market is diverse, with thousands of media outlets operating in Hungary, and the right to establish a media outlet is available to anyone. Domestic news consumption is characterised by diversity, with people interested in public affairs seeking information from a wide range of sources.  He presented the functioning of the media supervision system and its historical development. He explained that supervision is carried out by the five-member Media Council, whose members are elected by the National Assembly. The Council is independent and its members cannot be instructed in their activities.
The delegation was briefed on the most important professional challenges facing the NMHH, including the new rules introduced by the AVMSD, in particular the requirements and related tasks of the public authorities for video-sharing services, as well as the cooperation between EU public authorities as set out in the Directive. The situation of media pluralism in Hungary and the Hungarian position in connection with the planned European Media Freedom Act (EMFA) and the Regulation on digital services were also discussed at the meeting.
It was mentioned at the end of the meeting that Hungary, as the destination country of television services broadcast from abroad, has a strong interest in ensuring that closer cooperation is created between the audiovisual authorities of the European Union as a result of the new rules, thus guaranteeing the protection of media consumers, especially minors.