Although fixed Internet access is still the most popular solution amongst subscribers, the penetration of mobile Internet connections has increased
Five out of six people have some form of Internet access at home via mobile or fixed Internet connections – as demonstrated by a recent market research of the National Media and Infocommunications Authority. According to preliminary results, during the pandemic, the ratio of mobile Internet subscriptions has grew from 63 to 67 per cent due to increased simultaneous online traffic from a single household, yet overall, consumers continue to favour fixed Internet over mobile Internet connections for home use.
Based on the Authority's latest representative survey of over three thousand households, conducted this autumn, three-quarters of the secondary school and adult population have fixed Internet connections at home, while two-thirds have mobile Internet subscriptions on their phones. Nearly six-tenth of the population has subscriptions for both, whilst over one quarter has only purchased one type of these services: one in every ten people only uses mobile Internet, whilst one in every five only uses a fixed Internet connection. One in every six people has no Internet access at home.
However, during the pandemic, there has been a significant increase—from 63 to 67 per cent—in the number of people with mobile Internet subscriptions, with the greatest increase—from 7 to 9 per cent—amongst those who have no other Internet access at home. There has been no change in fixed Internet coverage since last year.
What are the advantages of a fixed Internet connection over mobile Internet access?
Those who have both mobile and fixed Internet subscriptions still prefer fixed Internet connections, whilst two-thirds only or mostly uses this type of Internet access and only one in every twenty respondents indicated that they mostly use mobile Internet at home. A further nearly 30 per cent of the respondents use these two options at an equal rate and there has been no change in this data since last year. Those with both types of Internet access consider the fact that for a monthly fee, a subscription can be used by multiple family members at the same time (41 per cent) and on multiple devices at the same time (34 per cent), the fact that it has no data traffic limit (36 per cent), that it is more reliable than mobile Internet (35 per cent) and that it is cheaper than mobile Internet (33 per cent) to be the greatest competitive advantages of a fixed Internet access over mobile Internet connections.
Internet access types used by the various groups
Those who only use mobile Internet at home are typically young, unskilled men in the lowest income group living in Northern Hungary who have children of their own or who are still children themselves (aged between 14 and 39), and are employed or inactive young adults (i.e. still attending school, on childcare allowance (GYES) or childcare benefit (GYED) or unemployed) and generally live in minor municipalities and villages.
Those who only have fixed Internet access also include less well-off groups, generally those who formerly lived at higher standards, yet face more difficult economic realities in old age. This typically includes female pensioners who also live in Northern Hungary, usually in rural surroundings, with a lower level of schooling, belonging to the lowest income group, yet in the middle third wealth group, frequently in households consisting of two elderly people without children. Similarly to those who only have mobile Internet access, they consider themselves to be novice Internet users with a low level of data traffic.
Those who have both types of Internet access are people with a higher status from every aspect, with better living circumstances. These individuals are mostly skilled young adults or middle-aged people living with children, mostly in the central regions of the country, in western and southern Transdanubian urban surroundings (in Budapest or county seats), in urban homes with a garden or newly-built apartment complexes or possibly in housing estates and belong to upper and middle wealth groups. Many of them consider themselves to be advanced or professional Internet users and generate a high level of data traffic on networks, frequently watching films online, making video calls and sending large files.
Background of the research
The survey was conducted between 11 August and 11 September 2020 on a nationally representative sample of 3,244 households using personal interviews. The interview consisted of two parts: first, an interview on the entire household and secondly, one with a particular member of the household of at least 14 years of age. Any possible distortions of the sample were corrected by researchers with a process of weighting. The survey was prepared by Ariosz Kft. for the NMHH.
Home fixed line and mobile internet coverage in the population aged 14 and over
Home fixed line and mobile internet coverage in the population aged 14 and over

| Type of access | Percent |
| --- | --- |
| Only has mobile Internet access | 9% |
| Only has fixed Internet access | 18% |
| Has both | 58% |
| Has neither | 16% |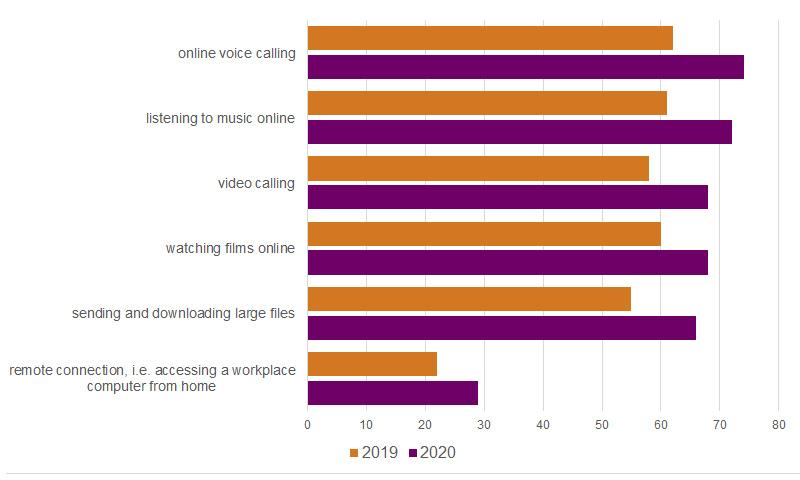 Penetration of online activities amongst those with mobile and fixed Internet access at home, 2019–2020, percentage
Penetration of online activities amongst those with mobile and fixed Internet access at home, 2019–2020, percentage

| Online activity | 2019 | 2020 |
| --- | --- | --- |
| remote connection, i.e. accessing a workplace computer from home | 29 | 22 |
| sending and downloading large files | 66 | 55 |
| watching films online | 68 | 60 |
| video calling | 68 | 58 |
| listening to music online | 72 | 61 |
| online voice calling | 74 | 62 |