Safer Internet Day 2020: The NMHH is creating a website for adults to support safer internet use
On 11 February i.e. on Safer Internet Day, the National Media and Infocommunications Authority (NMHH) has disclosed last year's statistics of the Internet Hotline legal advisory service, which shows that they're receiving an increasing number of reports on child sexual abuse materials. The Authority has created a teaser video for parents promoting its website for safer internet use, which will be launched on 1 March at Gyerekaneten.hu.
Last year, the NMHH Internet Hotline legal advisory service received 824 reports, showing a 13 percent higher rate compared to last year. A new trend is that in 2019, most of these reports (276) were in the category of paedophile content, whilst reports amounting to nearly half of these were regarding content published without consent (148) and phishing content (142).
Internet Hotline – distribution of reports in 2019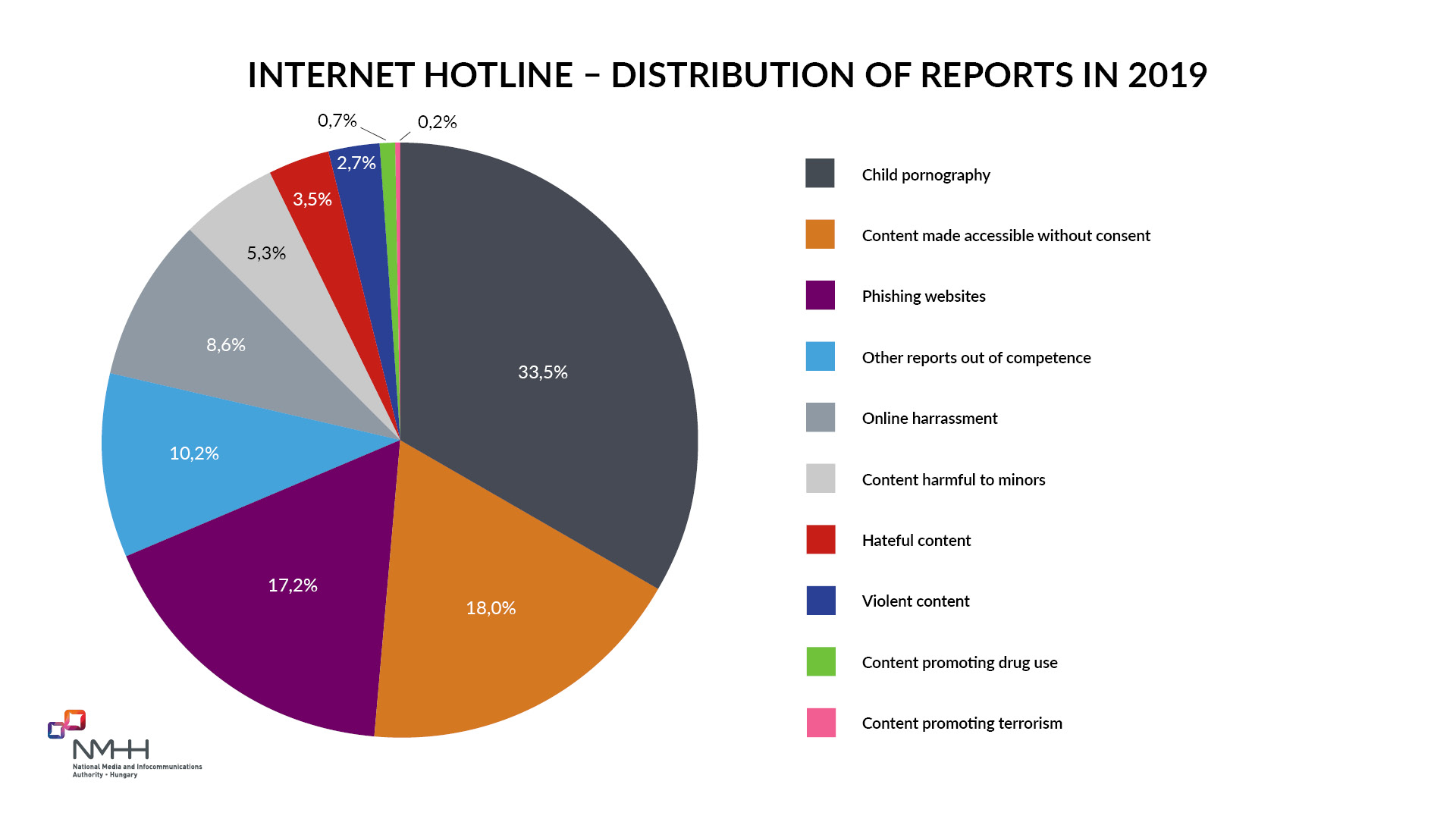 Internet Hotline – distribution of reports in 2019

| Category | Number of reports |
| --- | --- |
| Child pornography | 276 |
| Content made accessible without consent | 148 |
| Phishing websites | 142 |
| Other reports out of competence | 84 |
| Online harrassment | 71 |
| Content harmful to minors | 44 |
| Hateful content | 29 |
| Violent content | 22 |
| Content promoting drug use | 6 |
| Content promoting terrorism | 2 |
| Total | 824 |
The number of reports on child sexual abuse materials showed a significant, three-fold increase compared to 2018. Nearly one-third of the reports in this category presumably qualified as child pornography. These cases were forwarded by hotline analysts to the law enforcement agency, National Bureau of Investigation to take further measures or – if the content was hosted on foreign servers – they were forwarded through the umbrella organization of hotlines, the INHOPE network, to the hotlines of the relevant countries. Apart from the increasing awareness in domestic internet use, the exceptionally high number of reported child sexual abuse materials in 2019 can be explained by the fact that the project of the Canadian Centre of Child Protection, the Arachnid automated web crawling enginge also forwarded a significant amount of content to hotlines around the world.
Gyerekaneten.hu commences on 1 March: to have a better understanding of what kids are talking about (online)
As of 1 March, NMHH will be launching a website at the Gyerekaneten.hu web address providing parents with short, concise entries to explain the wide range of odd phenomena that kids talk about when discussing their online experiences. In order to promote the website – tied to this year's theme of the Safer Internet Day, online identity – the NMHH has created a 15-second video. The video shows the deconstruction of a girl's social media photo, removing the typical settings, filters and stickers until we finally come face to face with the actual child. The makers of the video intended to highlight the distance between online and real identities which is created in an almost natural way on social media platforms. The NMHH recommends that parents should talk to their children about how they view others based on their online appearance, and how they portray themselves online. Click here to see the teaser video of Gyerekaneten.hu: Teaser video on the NMHH's parental website.
About the Internet Hotline
Launched in 2011, the Internet Hotline (IH) is the NMHH's legal advisory service to help remedy reported cases of online infringement. This is not an administrative procedure; the IH sends notifications to content or hosting providers, requesting them to remove infringing content. The Hotline has received over five thousand reports since 2011. The Internet Hotline does not collect any information on people filing reports: anyone can ask for help through the reporting interface or by email (internethotline@internethotline.hu), even anonymously. The Internet Hotline reporting interface is located here: The website of the Internet Hotline, NMHH's legal advisory service.