NMHH: A leap in 4G mobile internet use last year
4G mobile internet use is rapidly spreading in Hungary with nearly 80 per cent of Hungarian smartphone users now connected to the web, as revealed by data published by the National Media and Infocommunications Authority (NMHH). The preliminary results of the nationally representative survey conducted in the autumn of 2018 also indicate that there is an increasing number of telephone functions taken over by the internet on smartphones: for example, the ratio of those using the internet in parallel with or in place of traditional phone calls has doubled compared to 2017.
Changing expectations: from long usage times to 4G mobile transmission
Currently Hungary has over 5.5 million smartphone users, which means more than half a smartphone per capita on average, if we take every Hungarian, from infants to old people, into account. Over the past decade, smartphones have been widely adopted, bringing new lifestyle changes and usage habits.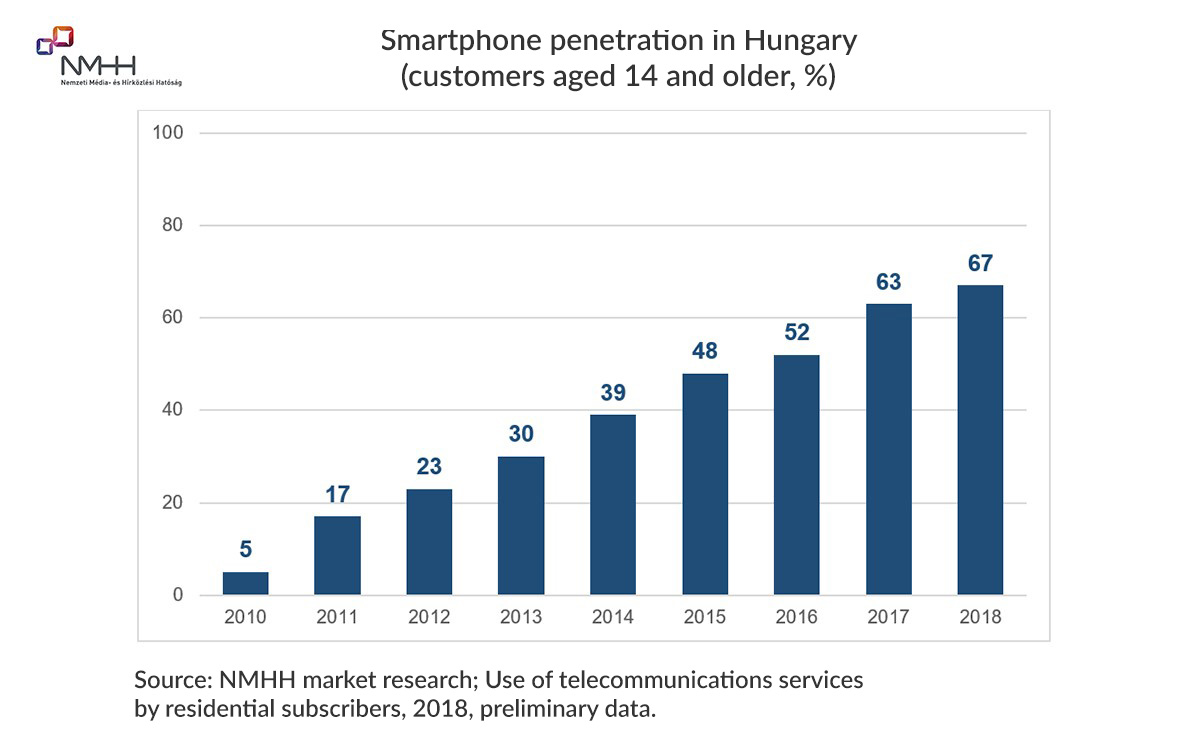 According to the NMHH research on telephony, television watching and internet browsing, only one in twenty people owned smartphones in the early 2010s, mostly young and tech-savvy man in managerial positions and with above-average income. Apart from minor setback, smartphone penetration has steadily increased since then, and currently two-thirds of the over-13 population own at least one such device. Based on the Authority's surveys, the smartphone was only fashionable initially, its novelty being its primary selling point, and it was not until some time later that consumers discovered the smart features of the device, i.e. they started using it as a computer and a smart tool.
By 2013, when three out of ten people had smartphones, the most important criterion when purchasing a device among well-informed internet users was still battery capacity (84%) rather than mobile internet subscription included in the tariff plan (40%) or support for 4G mobile data transmission (31%). However, the otherwise price-sensitive Hungarian consumers already rated the price of the handset much lower (47%) among their selection criteria than built-in camera (60%), touch screen quality (67%) or the battery capacity.
The smartphone is the driving force of internet use
The appearance of smartphones was also a major factor in the spread of internet use in Hungary, primarily for families with lower income and unfavourable geographical coverage by ISPs. Where people could not afford to purchase a more expensive, traditional computer or laptop, they could still buy a much cheaper smartphone, even for as little as HUF 10,000–15,000, with some mobile internet quota, which introduced the service to the household at least on a basic level. This could also have contributed to the fact that internet use based on mobile internet sticks, WiFi-Hotspots and tablets has failed to increase its market share above the 5–10 per cent range over the entire decade.
The previously experienced growth in fixed internet had slowed down by the middle of the decade, but smartphone internet access was able to maintain the growth of internet subscriptions. The recent years have been characterised by parallelism, i.e. fixed-line and especially mobile internet penetrations have both increased without an increase in the number of internet using families. It means that where originally only smartphones were used for internet browsing, fixed internet service was also added to the available services or vice versa. Even in the last two years, there has been a tremendous rise: the ratio of Hungarian families with small screen mobile internet access has grown from 40 per cent to 58 per cent, and tripled over five years. This trend was able to continue the spread of internet usage in Hungary even over the past year when the ratio of households with fixed internet access has not changed significantly. This trend is also related to the fact that, thanks to the frequencies released as a result of the digital switchover, network operators are able to provide increasingly better quality services in a growing number of places.
Eight out of ten smartphones had internet subscriptions in 2018
According to the results of the 2018 research, 92 per cent of those with smartphones use their devices for internet browsing. The ratio of those using the internet with mobile internet subscription in addition to, or instead of, WiFi connections has also increased significantly (80%). Based on the data collected from mobile users, the number of subscriptions with 4G mobile internet, which can be considered competitive with fixed internet access, doubled from 2016 to 2018 (from 28% to 54%). According to the information of mobile users, three-fourths of them have 4G ready devices with 4G subscriptions.
Spreading smart features
Besides such a large-scale proliferation of smartphones and subscriptions, it is also clear that more and more people use their devices' smart features, i.e. they use them as mini computers. Over the past one year, there has been an increase in smartphone use in Hungary in virtually all the activities listed in the questionnaire. The most common features mentioned by at least 70 per cent of the respondents are internet search, social media, email and instant messaging, i.e. mostly communicating with others, which gradually complements or even replaces traditional telephone calls. Although internet telephony is used by fewer people (54%), this feature has spread at the fastest pace, essentially doubling over last year (from 26%). In addition, the small-screen mobile phone with mobile internet is taking over an increasing number of tasks: six out of ten users check weather reports, watch films and videos on their smartphones online, five out of ten check timetables, nearly as many read newspapers, three sell and purchase on Vatera, Ebay and other online marketplaces while using their smartphones.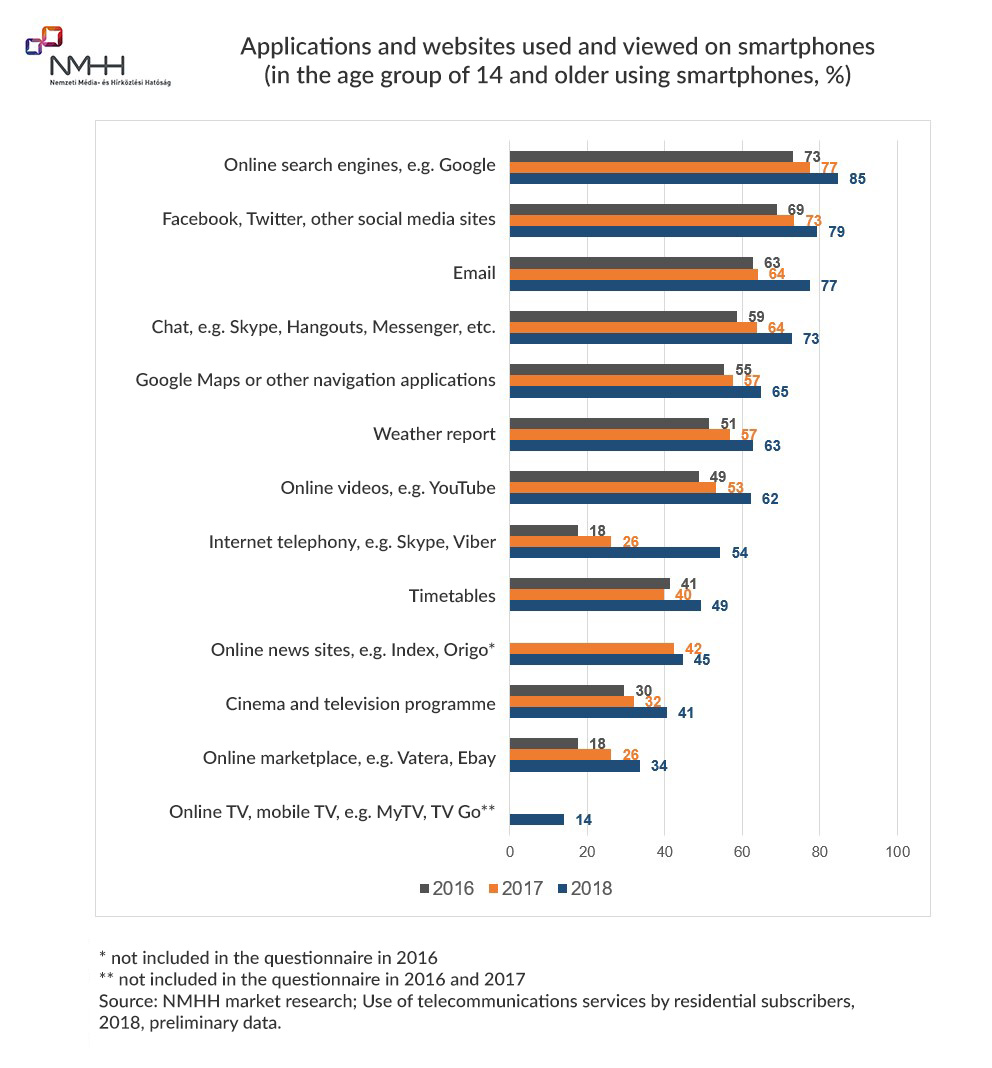 Research context
For years, the NMHH has been conducting comprehensive national surveys on various subjects of the infocommunications sector, the key findings and summaries of which are published on its website on a regular basis. The surveys are conducted to provide the Authority with better insight into user habits and opinions and to enable the NMHH to provide reliable estimates of expected changes over time and of predictable market trends. The final results of the 2018 nationwide research on residential user of the services is scheduled for publication in the spring. The previously published thematic summaries based on preliminary data (about smart cars, about fixed-term contracts) and the full research reports from previous years are available on the NMHH website.