Plenary Meeting of European Postal Supervisory Authorities hosted by the NMHH for the first time
Bringing together postal regulatory authorities, ERGP held its first bi-annual meeting organised by the National Media and Infocommunications Authority (NMHH) on 22-23 June in Hungary. The international trade association elected its chair for the next year from Belgium.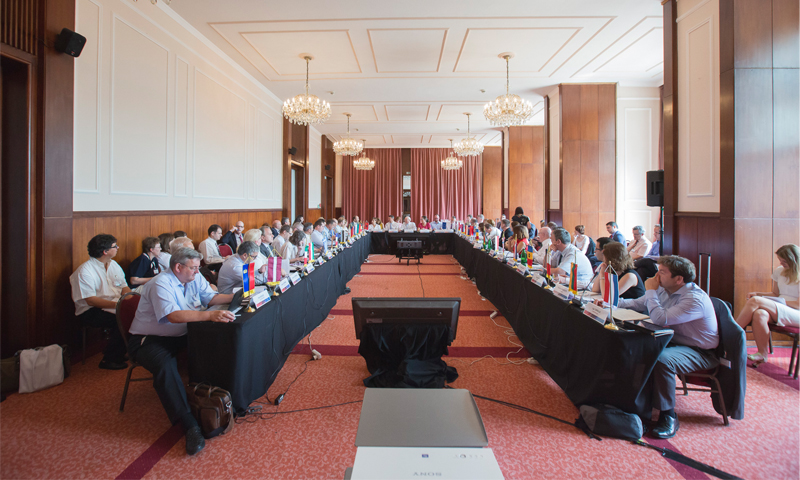 The highlight of the 12th Plenary was that the European Regulators Group for Postal Services (ERGP), currently chaired by Angelo Marcello Cardani from Italy, unanimously elected Jack Hamande, Executive Board Member of the Belgian Institute for Postal Services and Telecommunications (BIPT/IBPT), its chair for 2018. The National Media and Infocommunications Authority (NMHH), responsible for regulatory tasks in Hungary, was represented at the meeting by its President, Dr. Monika Karas.
The Plenary agreed and called for public consultation on the ERGP Work Programme 2018 which sets out tasks for next year in line with the Medium-term Strategy (MTS). One of the most important of these tasks is that ERGP will provide technical assistance in drawing up a draft Regulation and detailed rules on cross-border parcel services.
Progress reports were prepared on the work of every sub-group: topics covered at the meeting included access to postal networks, trends in European postal markets, customer satisfaction analyses and cost assessment of postal services. Members also confirmed their support for the implementation of the Regulation on cross-border parcel delivery services, adopted by the Transport, Telecommunications and Energy Council on 9 June.
Furthermore, the plenary approved a Roadmap on the measures to improve ERGP efficiency. The roadmap contains short- and medium-term measures to facilitate the implementation of ERGP's working tasks and enable ERGP take faster action. The Rules of Procedure were amended to enable all member countries to delegate a member to all working groups and delegates from all members countries to be involved in the work of the drafting committee. In addition, some volunteers from member countries will join the Secretariat. ERGP will also set out to create its own website and promote closer cooperation with Independent Regulators Group (IRP), an international organisation of telecommunications authorities.
About the ERGP

The ERGP is composed of the national regulatory authorities for postal services of the Member States of the European Union, countries with candidate status to join the EU and countries of the European Economic Area. Its tasks are to advise and assist the European Commission in developing the internal market for postal services or any other matter related to postal services. ERGP has held plenary meetings regularly, once or twice a year, for seven years. Until now, the NMHH only held working group meetings; this was the first time it welcomed participants to a plenary.

This was NMHH's second event in June that received garnering serious international attention: it held the annual general meeting of INHOPE, the international association of Internet hotlines fighting against the sexual exploitation of children, for the first time from 13 to 16 June.