Film Industry Spending in Hungary Saw a 75-percent Increase Last Year
The National Media and Infocommunications Authority's (NMHH) records show that the sequel to Blade Runner alone represented an industry spending of HUF 28.5 billion for Hungary in 2016. Total film spending in Hungary amounted to HUF 125.5 billion, a 75 percent increase compared to the previous year. Films attracted 12 percent more cinema-goers to box offices, to which art cinemas contributed as well.
Film industry performance continues to improve
In the last two years, more money was spent on the production of feature and TV films in Hungary than ever: spending amounted to HUF 125.5 billion in 2016 and HUF 72 billion a year before that, considerably exceeding HUF 56.4 billion in 2014 and HUF 54.2 billion in 2013. Last year's figure also shows that the film industry's performance in Hungary saw an almost twenty-fold increase since 2004.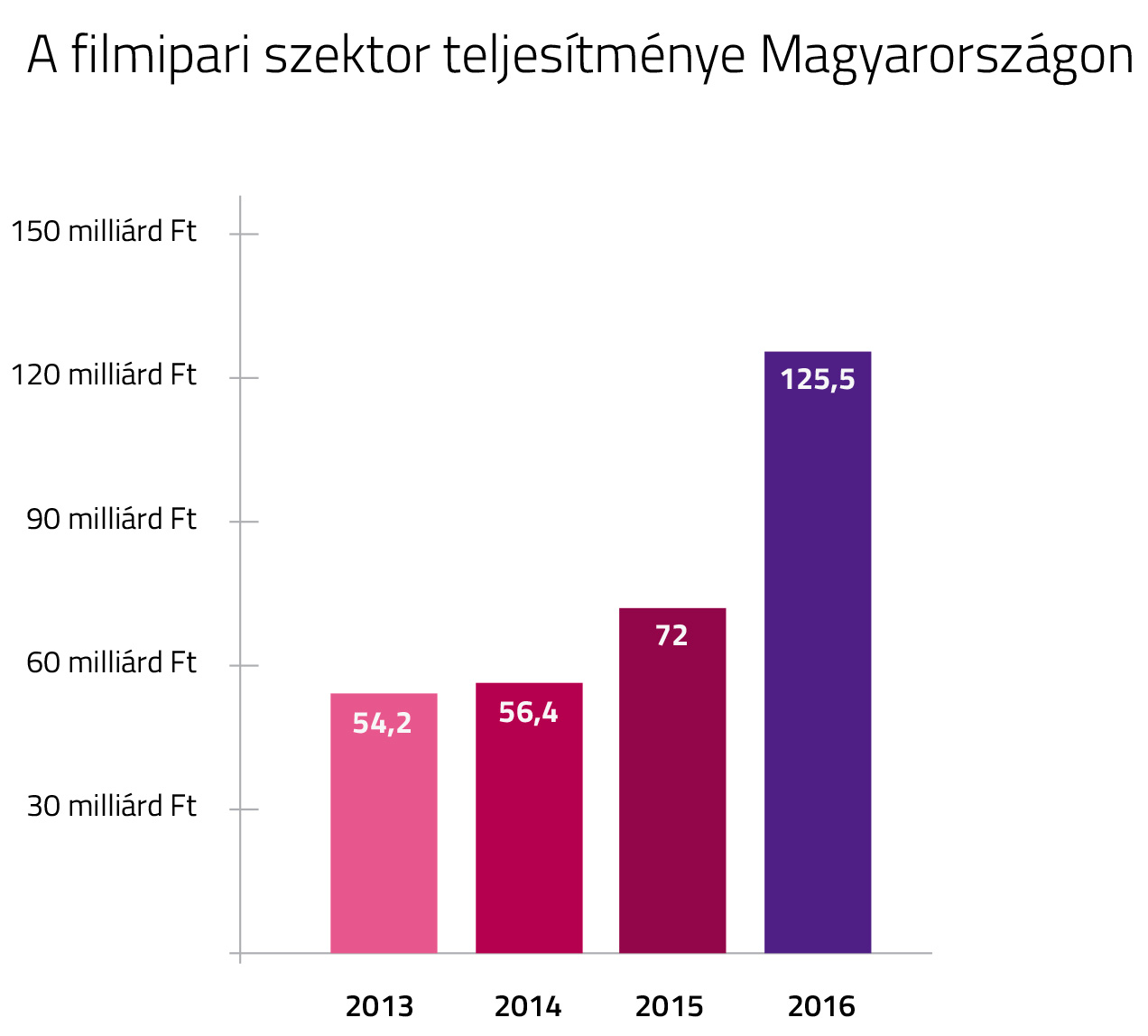 Based on the records of the NMHH's National Film Office, the production of 299 films was registered last year and 239 the year before that. These figures include everything from large international productions through the Oscar-winning short film Mindenki (Sing) to documentary and wildlife films, for all of which indirect state funding was requested.
From the films produced in Hungary in 2016, the most monumental was Blade Runner 2049 starring Harrison Ford, Ryan Gosling and Jared Leto, the most expensive contract work ever produced in Hungary with a Hungarian production cost of HUF 28.5 billion. Another outstanding piece is Emerald City: a HUF 12.6 billion was spent on this series. Among Hungarian films, A Viszkis ("The Whiskey Robber") tops the list with a budget of HUF 1.7 billion.
TOP FILMS IN HUNGARY IN 2016

 

Working title of the film

Film producer

Genre

Projected direct film production cost
(in HUF billion)

 

CONTRACT WORK

1.

Blade Runner 2049

Triboro Productions Kft.

feature film

28.5

2.

Emerald City

OZ Films Kft.

TV series

12.6

3.

Tyrant Season 3

Tyrant Films Kft.

TV series

6.6

4.

The Last Kingdom Season 2

Air Films Kft.

TV series

5.9

5.

Jamestown

JT Films Kft.

TV series

4.3

 

HUNGARIAN CO-PRODUCED FILMS

1.

X Company III

Pioneer Diamond Kft.

TV series

2.1

2.

A felesleges ember (Jupiter's Moon)

Repülő Proton Kft.

feature film

1

 

HUNGARIAN FILMS

1.

A Viszkis ("The Whiskey Robber")

Viszkis Film Kft.

feature film

1.7

2.

Zene nélkül ("Without Music")

Zene nélkül Kft.

feature film

1.4

3.

Budapest Noir

Pioneer Noir Kft.

feature film

1.3

4.

Ruben Brant, a gyűjtő (Ruben Brandt, Collector)

Ruben Brant Kft.

animation film

1.1

5.

Aranyélet (Golden Life) Season 2

HBO Holding Zrt.

TV series

1.1
The registration date represents the shooting start date; however, amounts indicated are provided for the entire production period, also including pre-production, shooting and post-production.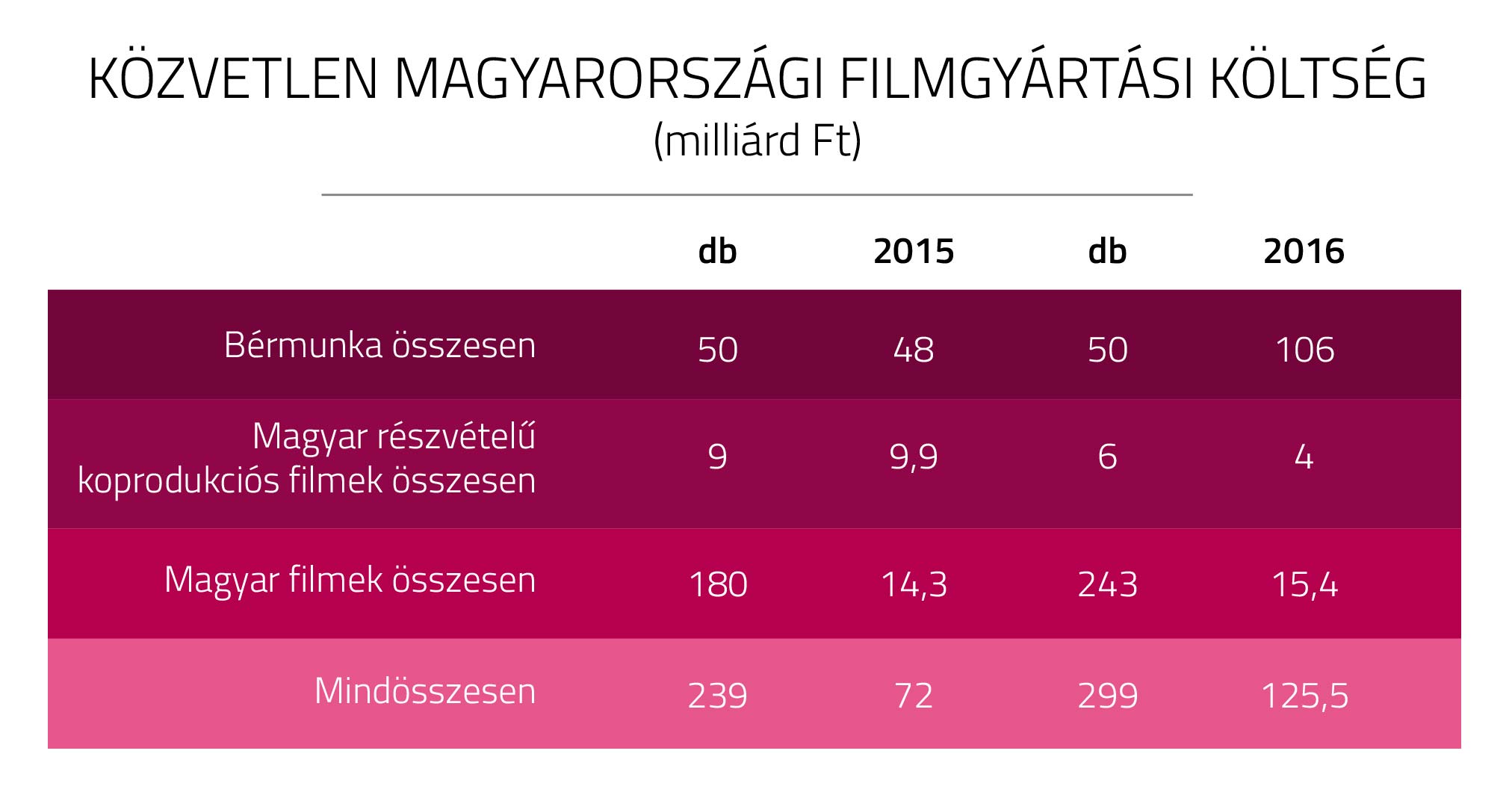 Number of cinema tickets sold exceeds population of Hungary
Hungarian film distributors report that films screened in Hungarian cinemas attracted an audience of 14.62 million people in 2016. This represents a 12% growth as from 2015 when a total of 13.02 million cinema-goers were recorded. Parallel to the audience, of course, ticket revenues also rose: their gross amount last year was nearly HUF 20 billion (HUF 19.8 billion), a 13% increase compared to the year before (HUF 17.5 billion). Last year, cinemas operated at a higher capacity compared to the year before that: based on 502,000 screenings, a screening generated a revenue of HUF 39,000 on average, while in 2015 this was HUF 4,000 less. At the same time, the average ticket price has only shown a slight increase: in 2016 it went up by only HUF 10 from HUF 1347 the year before.
As of January 2016, monthly box-office figures for cinemas has been available to the NMHH; they show that attendance peaked in August and December. Both months saw over 1.5 million cinema-goers in front of the silver screen with 1.58 million viewers recorded at the end of summer and 1.63 million in the last month of the year including the holiday season.
Star Wars did not top the box office in 2016
When looking at the aggregate number of viewers adjusted on the basis of additional reporting, it may come as a surprise that Rouge One missed first place: although it stood out among films screened in the fourth quarter with 550,000 viewers, it was surpassed by the animation film The Secret Life of Pets, which premiered in August, with 654,000 viewers. The superhero film Deadpool took third place with 430,000 viewers.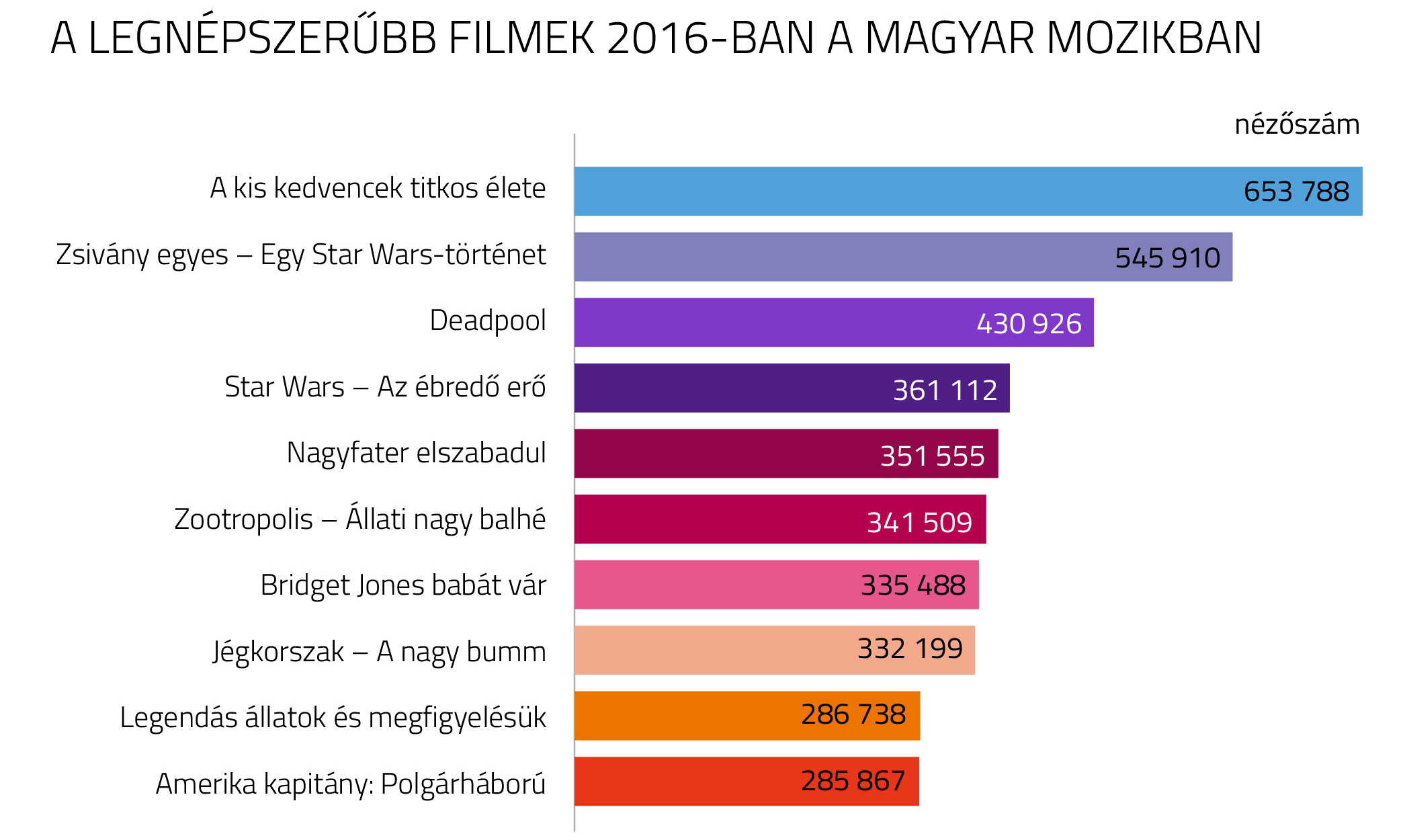 In art cinemas, a Hungarian film topped the box office: the winner of the Oscar for Best Foreign Language Film, Son of Saul, attracted more than 66,000 cinema-goers. Runners-up to László Nemes Jeles' film were A lovasíjász ("The Mounted Archer") with 32,000 viewers and The Secret Life of Pets with 27,000 viewers. Film theatres classified as art cinemas have a growing audience: last year 1.16 million went to such cinemas, 45,000 more than a year before. Art cinemas' rise in popularity is particularly impressive with a view to viewership figures of previous years: there were 679,000 viewers in 2013 and 871,000 in 2014. Revenues of art cinemas also grow proportionally: they recorded HUF 1.226 billion last year (compared to HUF 602 million in 2013, HUF 840 million in 2014 and HUF 1.109 billion in 2015).