Entire country proud of Sing's triumph
null
Early Monday morning, the Oscar for best short film was awarded to Kristóf Deák, the director of Sing ("Mindenki" in Hungarian), which had been financed by the National Media and Infocommunications Authority (NMHH) Media Council under its Hungarian Media Patronage Programme.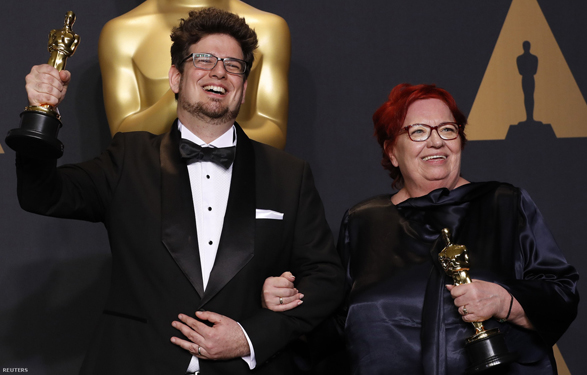 Photo: Lucas Jackson / Reuters
Only one year has passed and this country is once more celebrating an Oscar winning Hungarian film. This is a huge success shared by Sing's director Kristóf Deák and its producer, Anna Udvardy, as well as all members of the crew and cast contributing to the film, President of the NMHH Media Council Monika Karas told Hungarian News Agency MTI.
The President emphasized that this achievement was unparalleled: Sing is the first Hungarian short film to win this category at one of the most prestigious award ceremonies in the world of film. The creators as well as the whole of Hungary can be proud of this extraordinary result. Which is why we are very happy that this film was produced with financing from the Hungarian Media Patronage Programme of the Media Council: it received eight million forints state contribution under the Zoltán Huszárik tender. She also noted that, in addition to last year's Oscar awardee Son of Saul and winner of this year's Golden Bear award On Body and Soul, Kristóf Deák's Academy Award now serves as a convincing vindication of the Hungarian film subsidy regime, confirming that the stated objectives are good and that, as a result, more and more talented Hungarian filmmakers are able to bring their plans to life, augment our cultural treasure trove and, furthermore, earn international awards for the same. The award has also shown, she said, that the world was receptive to beauty, to positive messages and to expressions of mutual sensitivity as well as of collaboration.
As President of the Media Council Monika Karas expressed her heartfelt congratulations on behalf of the members as well to the creators of Sing, the protagonists and all the child actors, and wished all the participants in making this film future inspiration and further successes.
Under its film patronage programme, the NMHH Media Council spent over one and a half billion forints in just 2016 on supporting documentaries, popular science films, animated works, television films, featurettes, radio plays and films distributed online. The festival triumph and prestigious accolades like the Oscar nomination signal the fact that the Media Council is providing genuine support to Hungarian filmmakers, who can successfully represent Hungarian film on the international scene as well.
As the National Film Fund did with movies, the Media Council has set the goal in the television film genre to open the way for as many talented filmmakers as possible to bring to life their creative plans. Thanks to the dedication of Hungarian filmmakers, this aspiration is now bearing fruit.
The film is available to view until 5 March on MTV's Médiaklikk webpage: http://www.mediaklikk.hu/2017/02/18/mindenki/ . 
Sing cast and crew:
cast:
Zsófia Szamosi
Dorka Gáspárfalvi
Dorottya Hais
Borbála Karádi
Kristóf Deák – director, screenplay
Anna Udvardy, Kristóf Deák – producer
Mano Csillag – film editing
Ádám Balázs – music
Róbert Maly – cinematography
Judit Wunder – production design
The Hungarian Media Patronage Programme in figures
Over the past six years, the Media Council of the National Media and Infocommunications Authority has invested upwards of HUF 16 billion in the production of media content:
since 2011
112 animated films,
25 animated series,
248 documentaries,
173 popular science films,
9 history documentaries,
33 television films,
78 experimental films and featurettes,
41 radio plays,
64 screenplays,
90 instances of creating works intended for the online platform; and, additionally,
1873 instances of supporting technical development, utility payments, the production of television and radio programmes,
902 instances of supporting independent audiovisual creators.

The 11 tender categories of the patronage programme:
Miklós Cserés tender for radio drama
Attila Dargay tender for animated films
Lajos Egri tender for television film treatments
Judit Ember tender for documentary films
Károly Escher ad-hoc tender
György Fehér tender for television films
Zoltán Huszárik tender for experimental films and featurettes
Ágoston Kollányi tender for popular science films
Gyula Macskássy tender for animated films
István Nemeskürty tender for history documentaries
János Neumann tender for online films