NMHH: Digitalisation and the role of infocommunications goods in the everyday life of people with disabilities
null
Telecommunications services significantly facilitate full social integration and independent lifestyle for customers with disabilities – concludes a national NMHH study gauging special needs consumer groups' connectedness with infocommunications goods. The study reveals that mobile services and the internet are the most widely used among people with disabilities.
Two unrepresentative national surveys conducted by the NMHH conclude that mobile services and the Internet are the two most widely used telecommunications services among some half a million people with disabilities and an additional one million people with long-term illnesses in Hungary. Digitalization facilitates social integration for the majority of people with disabilities: they can partake of accessible education and employment. The visually impaired can lead more independent lives using applications developed for devices, for instance reading programs, location identification, and voice-based route planning. Web cameras assist the hearing impaired in using the Internet, adding another channel via which they can use sign language to communicate (four out of ten hearing impaired internet users currently own a Web camera). Mobile service providers offer special rate packages for the hearing impaired with minimal or zero voice use charges and unlimited texting or a greater than customary data allowance.
Diverse consumer habits, diverse needs
As consumers, the visually impaired, the hearing impaired, people with physical disabilities, and people with intellectual disabilities differ significantly in their use of telecommunications services. People with physical disabilities are a cohort with a high ratio of elderly people, who are less inclined to use "smart" infocommunication devices. The visually impaired, on the other hand, are better educated than people with physical disabilities, are usually younger and thus show a far greater affinity for modern technologies. As for people with intellectual disabilities they have to overcome formidable financial hurdles just to purchase telecommunications devices, let alone use them.
Telecommunications Service Use (per cent)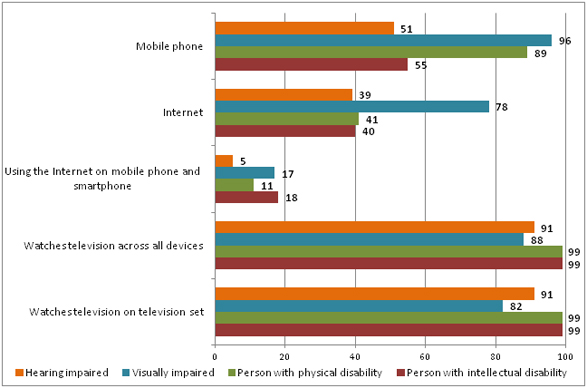 Source: NMHH Study, Consumer Consciousness (Participatory consumer perception survey), 2013, 2014.
Infocommunication integration challenges
Besides society, schools, and the people themselves living with disabilities telecommunications service providers, too, can make substantive contributions to facilitate social integration of people with disabilities by making their services, Web pages, customer service administration, and troubleshooting accessible.
Stairs pose the single greatest obstacle to accessing customer service offices for people with physical disabilities. Most visually impaired customers and some people with intellectual disabilities find handling of the queue ticket dispenser machine or keeping track of when their number will be called up challenging. The most formidable challenge is, however, presented for most by lack of document accessibility: the visually impaired do not find the written format useful (electronic, which they can use with reading software, or the Braille version), while the hearing impaired, especially the deaf, as well as people with intellectual disabilities found these verbally too complicated, difficult to comprehend.
Most people with disabilities – except for the visually impaired – do not visit their telecommunications service providers Web sites. Three-quarters of visually impaired customers complained that these online pages were not sufficiently accessible. Still, they were able more or less to navigate them. The overwhelming majority of hearing impaired customers, people with intellectual disabilities, and the visually impaired complained about lack of accessible documents. For the hearing impaired and people with intellectual disabilities this means so-called easily comprehensible texts, tutorials, whereas in the case of visually impaired customers it means electronic documents they could enlarge or which they could access using reading software.
Telecommunications service provider customer service staff are usually helpful and assist customers with disabilities with a positive, helpful attitude. Still, several survey respondents found it challenging that customer service staff were not properly trained to work with people with disabilities. Consequently, despite their helpful intentions their behaviour or lack of professional experience nonetheless posed challenges to satisfactory handling of customer service issues. Customer service staff strive to resolve such challenges with pragmatic thinking in face-to-face interactions with customers: they read out loud documents for the visually impaired (63 per cent), and hand over documents to the hearing impaired so they can read them themselves (83 per cent). A number of hearing impaired customers also mentioned that clearly visible symbols and pictograms conspicuously displayed at customer service offices are very helpful (25 per cent).
Customer Service Challenges (among customers who personally called on customer service offices in the past 2-3 years, per cent)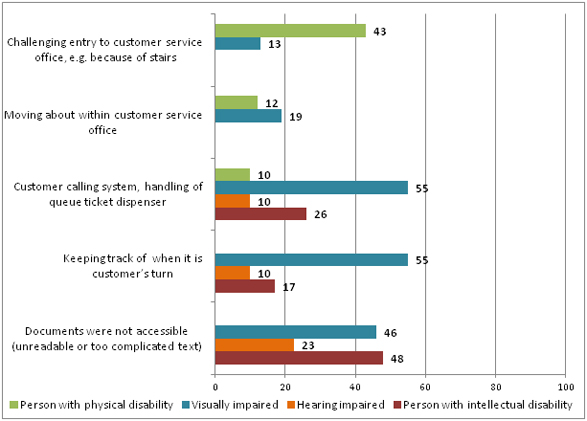 Source: NMHH Study, Consumer Consciousness (Participatory consumer perception survey), 2013, 2014.
Making telecommunications services accessible
As well as answering set questions, NMHH survey respondents with disabilities also shared their experiences of what would be of meaningful help to them in terms of making telecommunications accessible. Their responses reveal that accessible documents would be the most helpful in attending to customer service matters. Also, they would like to see customer service staff receive better training to better serve people with diverse disabilities. What customers with physical disabilities most pressingly need is physical accessibility of offices and interiors. Also, since they are usually older people they would also like assistance with computer use, especially since ability to use online customer services would help them eliminate offline physical impediments.
What would be helpful to you in customer service matters (a few of respondents' own ideas and answers)?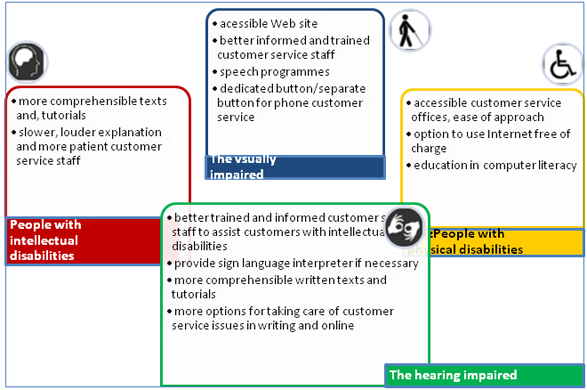 Source: NMHH Study, Consumer Consciousness (Participatory consumer perception survey), 2013, 2014.
Electronic documents and customer service would also make things far easier for people with physical disabilities, who often find taking transportation to attend to customer service matters in person challenging to varying degrees. As well, life for visually impaired customers could be made far easier if documents using large fonts were made available; on the other hand very few blind people read Braille. Consequently Braille versions of Terms of Service (TOS) do not provide meaningful help for them. What would really make life of the hearing impaired substantively easier is customer service via SMS, as well as availability of sign language interpreting in person or via online video. Significant numbers of customers with intellectual disabilities also reported that they found service providers' online video tutorials helpful in navigating their customer service needs.
The majority of respondents with disabilities who do not use offline customer services acknowledged in the NMHH survey that when they contact their service provider by phone, online or in writing they do not mention the fact of their disability.
Telecommunications service providers can, however, only extend special assistance or provide alternative modes of customer service if provided with the information that they are assisting a customer with disability.
What would be helpful to you and to what extent in dealing with customer service issues? (questionnaire-based)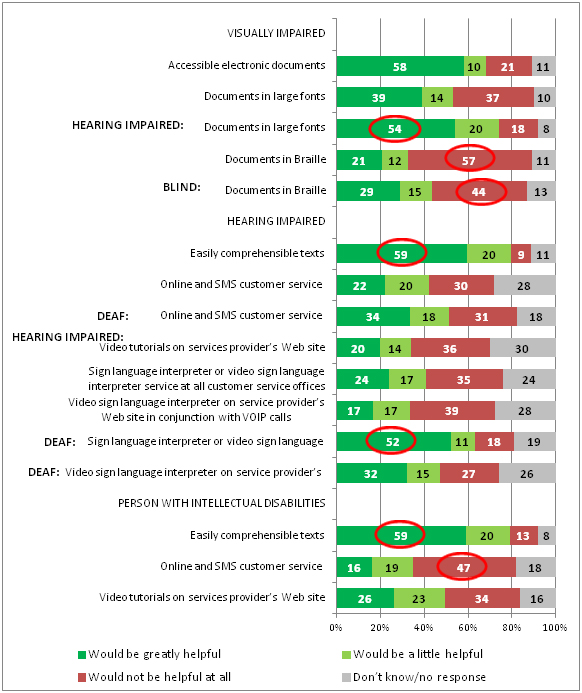 Source: NMHH Study, Consumer Consciousness (Participatory consumer perception survey), 2013, 2014.
The NMHH strives to facilitate access to telecommunications services of groups gravely disadvantaged due to their age, physical, intellectual, or psychological condition and social circumstances and people with disabilities. The Authority also aims to mediate special accessibility needs vis-à-vis service providers and society at large.
The Authority takes this opportunity to express its gratitude to all advocacy, non-profit and government experts, as well as to respondents with disabilities and their helpers, who made valuable contributions to the creation of this study series.
Data source:
Consumer Consciousness (Participatory consumer perception survey), 2013, 2014: in both years the study complemented our surveys, nationally representative of the country's adult population, with a targeted consumer survey of people with disabilities. Respondents were people with physical disabilities and visual impairments at least 18 years old (320 persons, 2013), as well as hearing impaired and people with mild or moderate intellectual disabilities (517 persons, 2014). Our surveys are not representative in the sense that the findings obtained cannot directly be applied to the whole cohort of people with disabilities in Hungary. Using the survey, we aimed to reach out to the most complex possible respondent group to become familiar, from diverse viewpoints, of telecommunications-related opinion and habits of diverse groups of people with disabilities. Accordingly, in choosing our sample we strove to target respondents of diverse demographic backgrounds (e.g. of different ages, education, type of geographical location /different counties and local communities/), as well as with diverse disabilities (people with physical disabilities using wheelchairs and not using wheelchairs, people with visual impairment, blind as well as with poor vision, people with hearing impairment, both deaf and hard of hearing, people with intellectual disabilities both mild and moderate) in sufficient numbers required for our analysis. Ariosz Kft. conducted one survey (late April – early May 2013) and Kutatópont Kft. the other (late August – early September 2014).