Agreement Signed with All Four Winning Service Providers
The National Media and Infocommunications Authority (NMHH) has signed the administrative contract required for frequency use with Telenor Magyarország Zrt.
null
On 7 November, The National Media and Infocommunications Authority (NMHH) signed the administrative contract with Telenor Magyarország Zrt. required for the utilisation of the frequency blocks acquired in the latest frequency tender. With these new blocks, Telenor will soon be able to offer its innovative and new services to everyone in.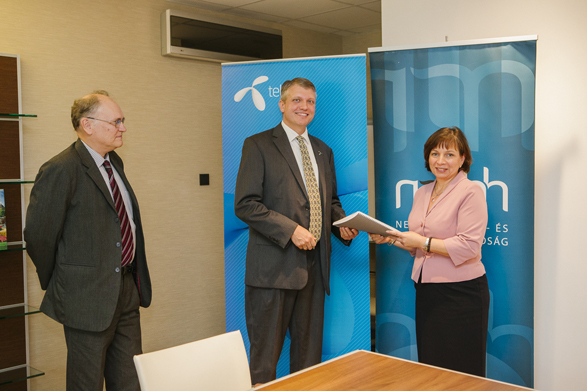 As a result of the latest successful NMHH tender, Telenor has acquired package "B" with a 10 MHz block in the 800 MHz frequency band, a 2 MHz block in the 900 MHz band, and a 20 MHz block in the 2600 MHz band for a total of HUF 31.7 billion. By law, the Authority was required to conclude the administrative contracts with the winning bidders within 45 days from the date the tender results were announced.
With this frequency tender concluded, Telenor has increased its frequency volume by 64 MHz, now totalling at 33% of all available frequencies in Hungary. Based on the tender commitments incorporated in the agreement, Telenor will offer full coverage in Budapest within months and will then continue to expand its network coverage in the settlements along Lake Balaton and in the regional population centres. Within 3 years, the service provider is scheduled to make available its 4G coverage to 98 percent of the Hungarian population and invest approx. HUF 15–20 billion in network development. Within one year, Telenor's network coverage will extend to 19.71 percent of the settlements with under 1000 residents and will reach the target of 67.57 percent in the 800 MHz band within three years.
"Everyone in Hungary deserves the best available services and network. This is why we want to make our Hipernet services available to everyone and everywhere. With these new frequencies, Telenor will continue to provide improved user experience even in the most remote regions of the country. We are especially proud of being able to celebrate Telenor Hungary's 20th birthday by making our innovative services available all over the country through the continuous development of our Hipernet network," said Christopher Laska, CEO of Telenor Hungary.