NMHH's Internet Hotline to take action against unauthorised online sharing of images and videos in February campaign
In 2018, two reports of online infringement were submitted a day to the Internet Hotline (IH), the legal advisory service of the National Media and Infocommunications Authority (NMHH), with the most common categories being phishing and content made accessible without consent. The service will celebrate Safer Internet Day on 5 February by raising awareness of infringement committed by the unauthorised publication of images and videos with its mini-campaign featuring a creative video made by a team of students shared on online social platforms.
The Authority's legal assistance service received a total of 731 reports in 2018, nearly 15 per cent of which drew attention to issues with content available on social media or through chat services. Reports show that infringement most frequently occurred on Facebook, Instagram, Viber, WhatsApp and Facebook Messenger, with almost 5 per cent of the cases concerning content made available on YouTube. One-fifth of the reports were related to infringing content received via email.
Without consent: a short film about a common yet painful form of infringement
Content made accessible without consent has always been one of the issues most frequently reported to the legal assistance service. In 2018, this category accounted for 17 per cent of reports. In such cases, infringement is caused by publishing photos or videos on social media and/or video sharing sites without the consent of the data subject, i.e. the depicted or quoted person. Depending on the sensitivity of shared content, infringement may only cause inconvenience or, indeed, a great deal of suffering to the victim.
This typical form of online abuse prompted five Communication and Media Science BA students at the Corvinus University of Budapest to make a screencast film that was embraced by the NMHH and is promoted with the creators' consent as part of a mini-campaign on YouTube to mark Safer Internet Day (SID) held on 5 February.
The students came up with an exceptionally creative concept for a university project. They made a nearly three-minute film with a fast-paced plot that unfolds entirely on the screen of the phone of the protagonist, Dóri. The story picks up after a break-up and starting from Dóri's Instagram profile it is revealed how the victim's now ex-boyfriend abuses some private images. The film was created by Fanni Gulyás, Dorottya Jeneses, Amina Puskás, Noémi Túri and Máté Kovács for a seminar by their professor, Veronika Pelle.
The other issue: a new generation of phishing attacks is here
In 2018, experts at the service encountered an exceptionally high number of phishing attempts, accounting for a quarter of all reports; it was last year that such cases became the most frequently recorded of the nine categories used by the IH. The most typical methods were fake bill notifications and data reconciliation emails sent on behalf of major operators. Phishing significantly evolved even in recent years with the rise of personalised phishing attempts where cybercriminals no longer send messages on a large scale, but rather launch attacks targeted at deliberately selected persons, threatening and blackmailing them financially or with data theft based on their online behaviour.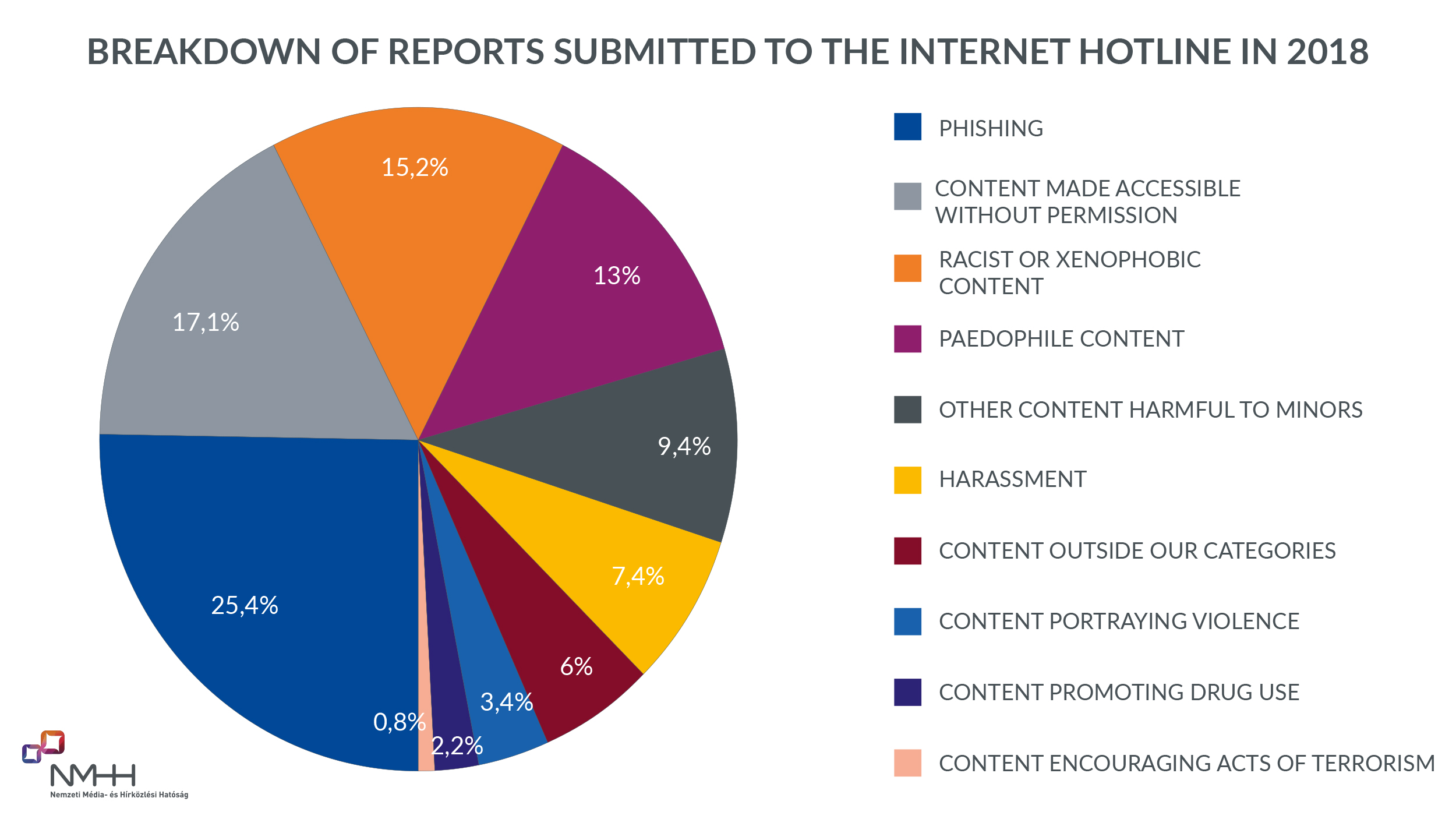 Increased international cooperation against paedophile content
Last year, the IH investigated 95 instances of paedophile content, twice as many as in 2017. Over two and a half times more reports on paedophile content (40) were received from INHOPE, the international network of hotlines. In such cases, international hotlines notified the Hungarian service of content that was reported to them but is hosted on Hungarian servers. In cases that qualify as child pornography under Hungarian law, the IH worked with the National Bureau of Investigation to remove such content. There was also a considerable increase in the number of cases where the IH contacted the INHOPE network concerning content reported in Hungary but hosted on international servers (62 cases compared to 9 in 2017); the increased number of reports encouraged international cooperation in the resolution of this issue.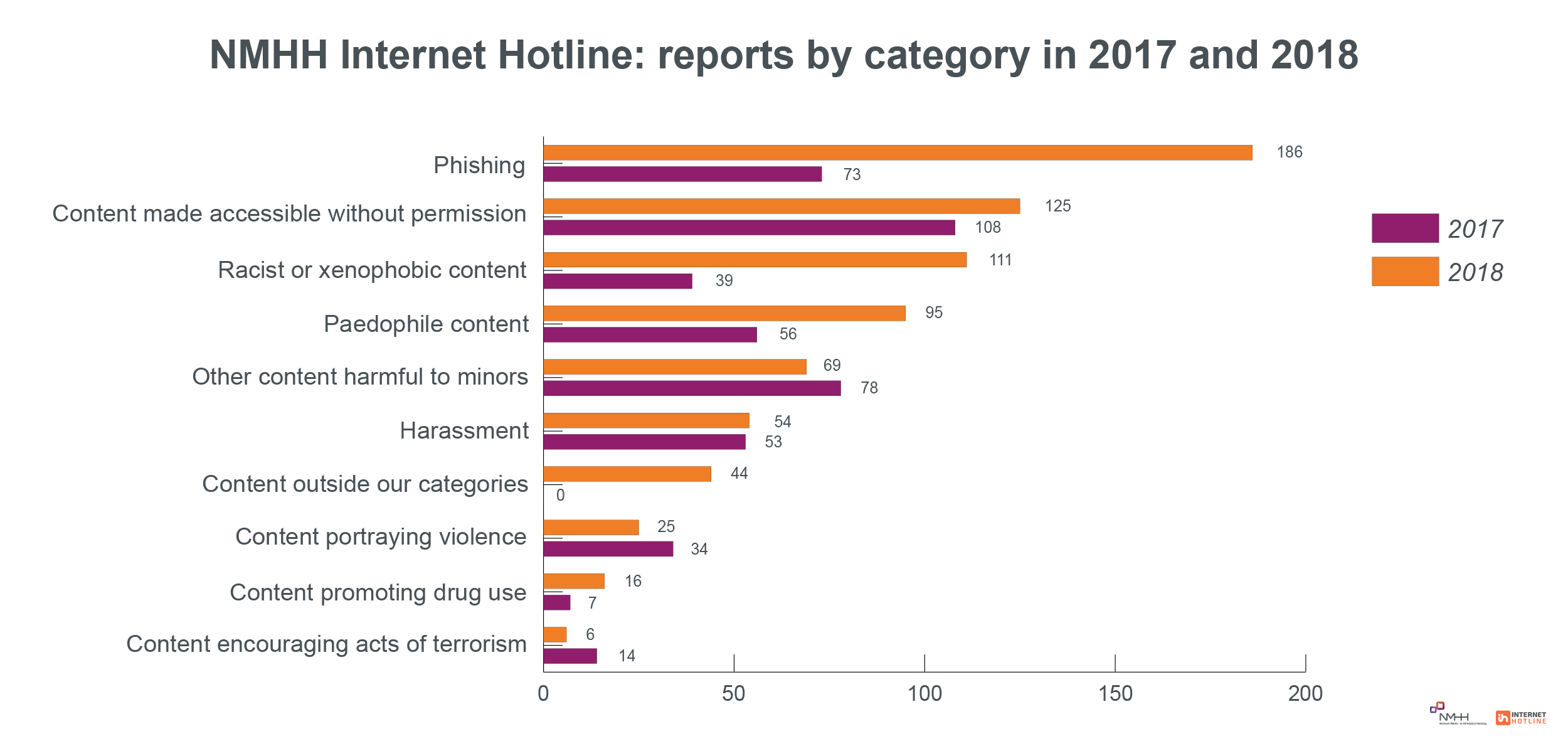 Campaign site: nmhh.hu/para
Screencast film on Youtube: https://www.youtube.com/watch?v=L_IkJRiy-xk