NMHH opened its ninth university media workshop in Eger
President of the National Media and Infocommunications Authority (NMHH) Monika Karas opened the Authority's ninth media workshop at the Eszterházy Károly University, therefore students and teachers alike can make use of cutting edge computers featuring the latest software for developing their knowledge.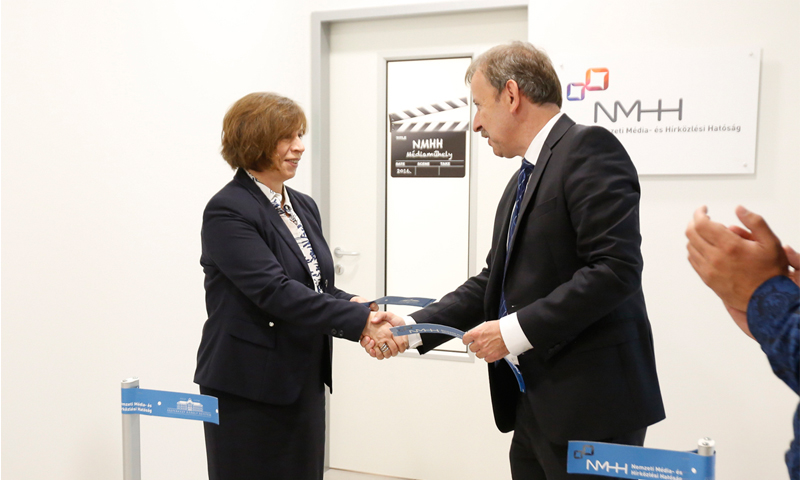 Thanks to the media workshops providing a range of creative IT devices, the NMHH has contributed to the top quality services provided by higher education institutions since 2012. President of the authority Monika Karas has now opened the fifth rural site of cutting edge media labs – after Piliscsaba, Pécs, Szeged and Debrecen –, thus supporting the training of future media experts.
"Universities are at the forefront of science, whilst it's practically a question of life and death for communication and media majors that both instructors and students work with devices which meet the needs of the age – stressed Monika Karas in her speech. – It's of crucial importance that students, between these walls, acquire a knowledge that will allow them to become expert movers and shakers of the media and communications industry."
The Authority provided three MacPro and three iMac 27-inch computers, three Apple Thunderbolt displays and six Adobe CS6 Master Collection creative software packages, and also covered all costs related to the implementation and furnishing of the facility. The media workshop, established with HUF 13 million worth of funds, will host practical seminars and provide world-class infrastructure for individual creative work including even the most complex tasks and post-production activities, from graphic design, video editing and web development to desktop publishing.
The NMHH launched its development program in 2012, during which it established media workshops in higher education institutions, which, apart from hosting top quality classes with the latest IT devices, allow students to prepare their assignments, competition pieces and thesis projects on devices used by experts in the leading media studios of the world.
Media workshops established so far with the support of the NMHH:
December 2012 – University of Pécs
February 2013 – Pázmány Péter Catholic University, Budapest
December 2013 – Moholy-Nagy University of Art and Design, Budapest
October 2014 – Eötvös Loránd University, Budapest
December 2014 – University of Szeged
May 2015 – University of Debrecen
September 2015 – Corvinus University, Budapest
October 2016 – Károli Gáspár University of the Reformed Church, Budapest
June 2017 – Eszterházy Károly University, Eger