The number of radio listeners did not change significantly in Q2
According to the latest national and Budapest listenership data of the National Media and Infocommunications Authority (NMHH), more than six million people listened to radio nationally each day from April to June. In the capital city, more than 74% of the population aged 15 and older listened to a radio station every day, whereas weekly radio listenership was 91%.
According to the measurement results of the period between April and June, more than 6.2 million people listened to radios each day, whereas the weekly number was more than 7.5 million, which means that 74.3% of the population aged 15 and older listens to a radio daily, whereas the weekly figure is 89.6%.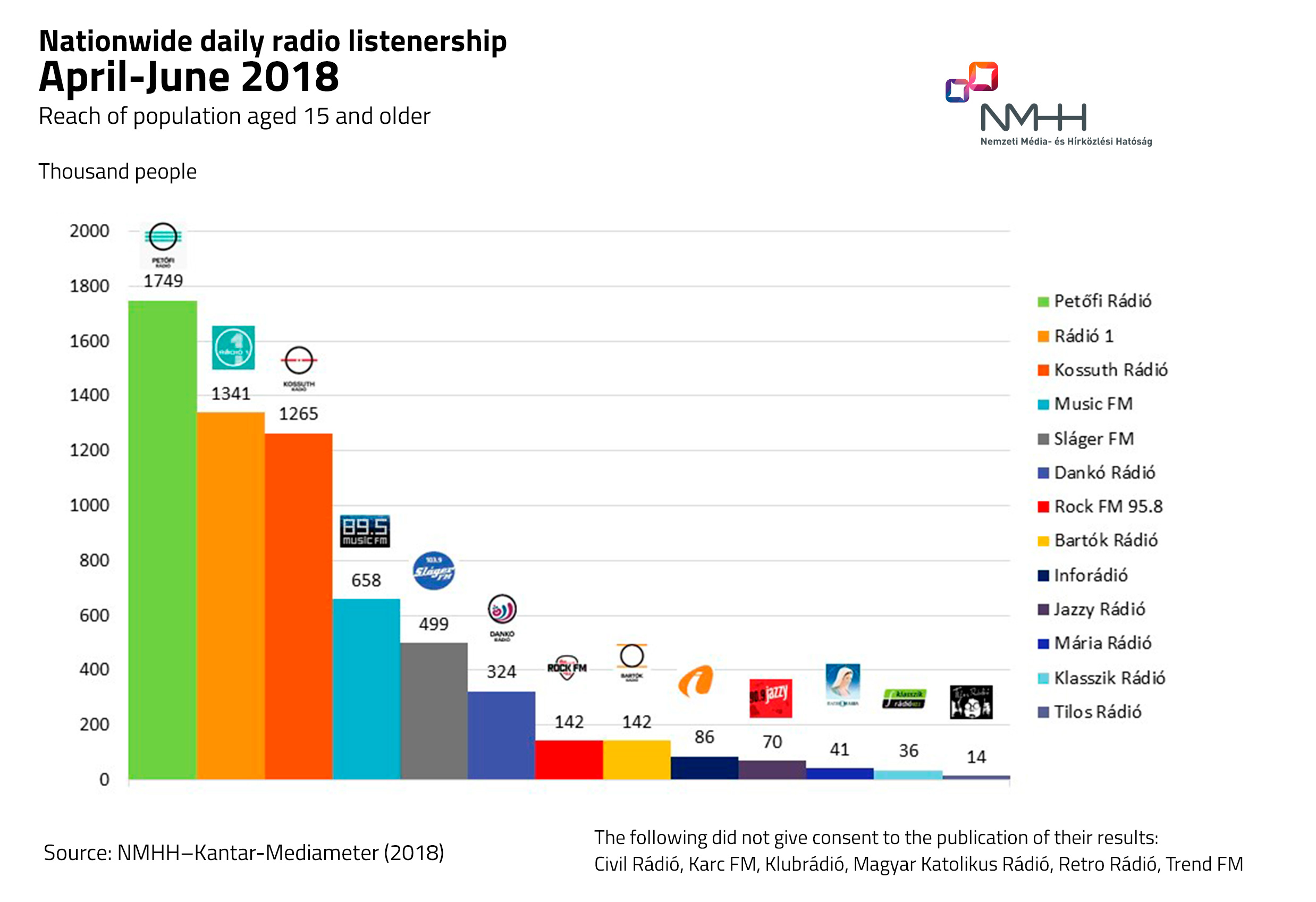 Taking into account an average day, the current top national radio listenership is led by Petőfi Rádió with 1.7 million listeners, which is followed by Rádió 1 (1.3 million listeners) and Kossuth Rádió with 1.3 million listeners. The average daily audience of Music FM is 658 thousand people, whereas Sláger FM has 499 thousand listeners and Dankó Rádió has 324 thousand listeners. The following radio stations also have more than one hundred thousand listeners: Rock FM 95.8 (142 thousand) and Bartók Rádió (142 thousand). These are followed by radio stations with over fifty thousand listeners: Inforádió (86 thousand) and Jazzy Rádió (70 thousand). Mária Rádió has 41 thousand listeners every day, whereas Klasszik Rádió has 36 thousand and Tilos Rádió has 14 thousand listeners. The audience of other radio stations does not reach the daily average of 10 thousand listeners nationally.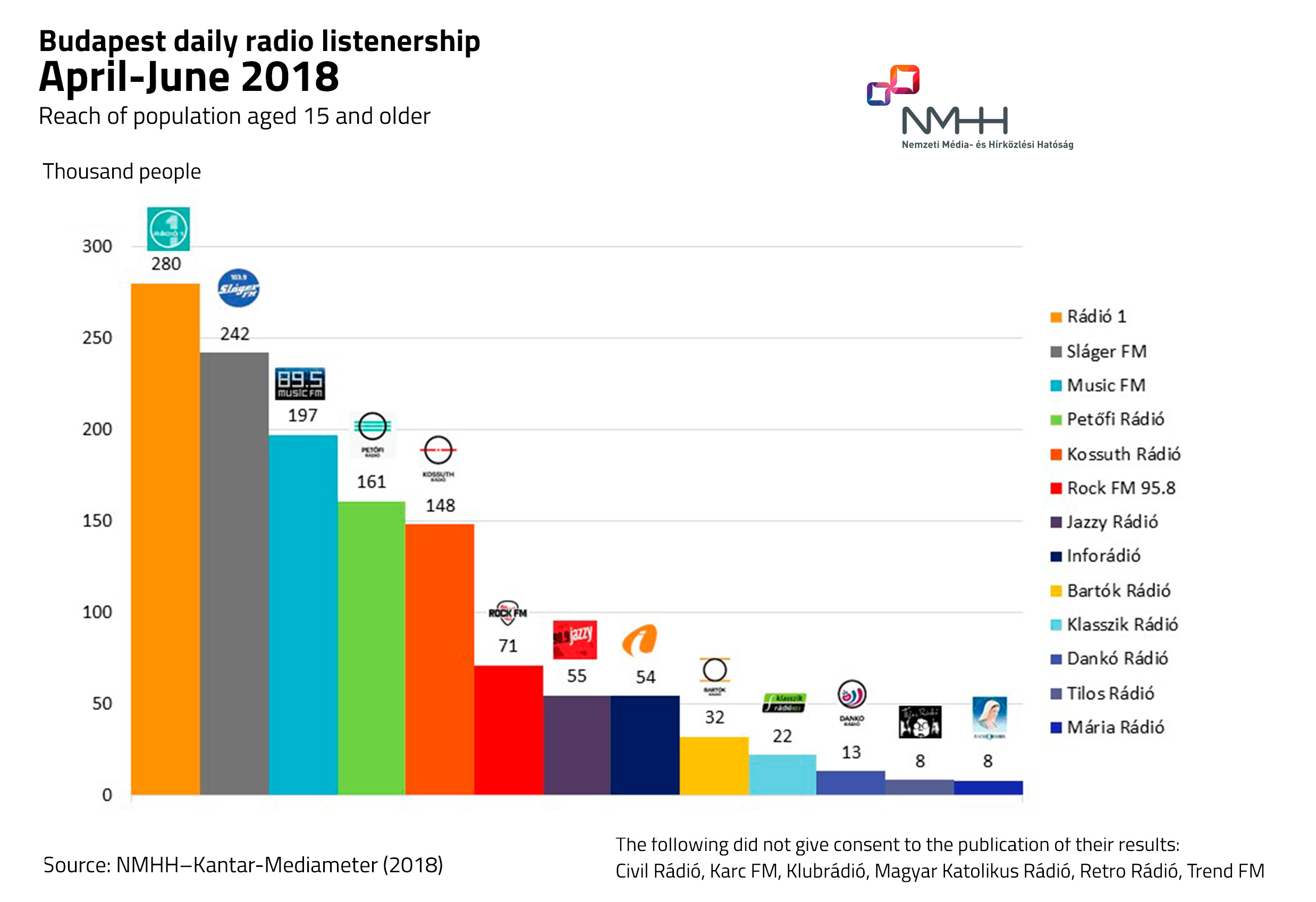 Based on the average daily number of listeners, the number one station in Budapest is Rádió 1 with 280 thousand listeners, this is followed by Sláger FM (242 thousand), which was the leading radio station in the previous quarter. The third place is held by Music FM (197 thousand listeners). The audience of Petőfi Rádió was 161 thousand, whereas that of Kossuth Rádió was 148 thousand. The daily audience of Rock FM 95.8 was 71 thousand, whereas that of Jazzy Rádió was 55 thousand and that of InfoRádió was 54 thousand. In Budapest, a daily average of 32 thousand people listened to Bartók Rádió, whereas Klasszik Rádió had 22 thousand listeners and Dankó Rádió had 13 thousand listeners. Both Tilos Rádió and Mária Rádió had daily listenership of 8‑8 thousand people, respectively.
Further details of Q2 can be accessed in the Researches menu item of the website of the authority, with respect to both the national and Budapest radio stations and the radio stations of county-right cities. Information about the previous, Q1, results of the survey can be found at the same place (here and here). As it was already stated in the previous press release of NMHH, radio stations and agencies have unlimited access to the data produced using the methodology proposed by radio market experts, while a reduced range of information is made available to the general public to protect the economic interests of market operators.